Arrive at Ha Noi Bai International Airport, welcome by our guide and transfer to your hotel. The transfer distance is approximately 40 munities. 
Hanoi or "River-bound City" as its name literally means is Vietnam's capital with a thousand-year-old history dating back to 1010. The city's fascinating beauty which is characterized by unique cultural relics, ancient streets of antique houses, elegant French colonial buildings, tree-lined boulevards and romantic lakes has made it one of the most charming cities of Asia. 
Overnight stay in Hanoi.
After breakfast at the hotel, proceed for a full day sightseeing tour of Hanoi.
The tour starts with a visit to Ho Chi Minh Complex which features the life of Ho Chi Minh, the nation's founder. At the complex, visit the Ho Chi Minh Mausoleum, the colonial Presidential Palace, the One Pillar Pagoda. Continue to the Temple of Literature, known as the first university of Vietnam built in 1070 by the Ly Dynasty to honour Confucius, sages and outstanding Vietnamese scholars. 
In the afternoon, continue the tour to one of the following museums of choice namely: the Museum of Fine Arts, the National Museum of Vietnamese History, the Museum of Revolution, the Museum of Military History or the Museum of Ethnology.
Late afternoon, visit Hoan Kiem Lake and Ngoc Son Temple located on an islet in the lake. Hoan Kiem Lake is the center point of Hanoi and home to a rare endangered giant turtle species. Its name "Returned Sword" comes from a legend of a sacred sword being lent to an ancient Vietnamese King by a holy turtle from the lake and later returned to the turtle. 
Overnight stay at Hanoi.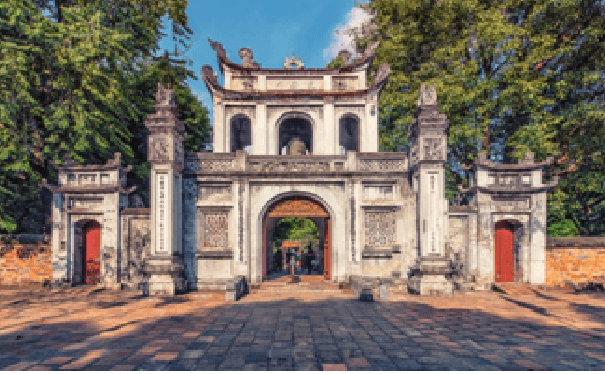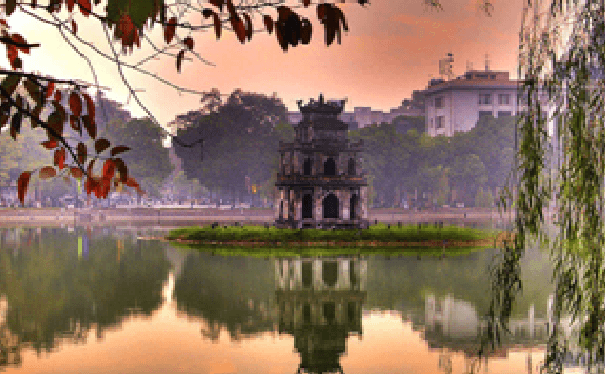 After breakfast, check out from the hotel and transfer to Ha Long Bay, which is about 160 km or 3.5-hour drive away. On the way, you will see some rural areas of the Red River Delta with plenty of chances to take photos of Vietnamese farmers working in paddy fields. Stop half way to visit a handicraft workshop of fine clothes and embroidered paintings. 
Upon arrival in Ha Long City, aboard your cruise ship and proceed for check-in. Start cruising while having lunch on board and enjoy the mighty bay view. 
Ha Long Bay meaning Descending Dragon Bay in Vietnamese as legend has it that it was where a holly dragon landed down from sky. The bay, famous as one of the world's wonders and heritage sites whose formation dates back 500 million years, consists of around 2,000 karst islands and islets scattered over an area of 1,553 km2. The bay cruise will continue with up close sighting of Dinh Huong Island, Ga Choi
Island, Dog Island, Sail Island, a visit to Sung Sot Cave and swimming stop at Titov Beach. Relax to enjoy the bay view at sunset, have dinner after, go fishing and spend a night on board. 
Overnight stay on cruise in Ha Long Bay.
In the morning, refresh your body and mind with a Tai Chi exercise on the sundeck at the break of dawn. Have tea and coffee onboard and continue exploring Ha Long Bay sailing across its 2000 islets and visiting some of its major highlights. Normally, check out at 09:30, have a buffet brunch while cruising back to shore. 
Afterwards, check out and disembark from the cruise and transfer back to Hanoi airport to catch a flight to Danang. Upon arrival, check in at our hotel there.
Overnight stay at Danang.
After breakfast at the hotel, proceed for a full-day sightseeing tour at Ba Na Hills, pass the sea-shore on Nguyen Tat Thanh Street, one of the most beautiful roads of Da Nang City and Red Beach, where the French first landed in Da Nang. 
Arrive at the Cable car station at the foot of Ba Na Mountain. Enjoy the first leg of the Cable car, which achieved two Guinness World Records in 2009 for being the longest (5,042m) and highest (1,292m) non-stop cable car. Experience pristine ecological systems of the Ba Na Mountains will leave you with a sense of unforeseeable discovery.
Here, step on Golden Bridge which stands 1,400m above sea level in the Ba Na hills. It extends over the treetops from the edge of a leafy cliff face offering tourists uninterrupted views of the majestic landscape beneath. Visit Le Jardin, old wineries, remains of French Villas and Ling Ung Pagoda with 27m high Buddha status. 
Next take the second cable car to visit the top of the mountain and see the remains of old villas. View the whole Da Nang city under the cluster of white clouds. Leave Peak of Chua Mountain, visit the trail of Dreaming Stream, Rainbow Waterfall, Suspension Bridge, Golden Valley, and the ruined Opera House. 
Afterwards, transfer to Hoi An and check-in at the hotel there. Overnight stay at hotel in Hoi An.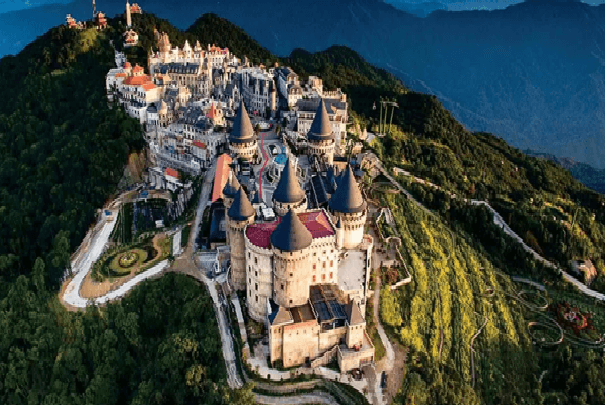 After breakfast, proceed for sightseeing tour of Hoi An.
The tour includes visit to the iconic 400-year-old Covered Bridge with a small temple attached to one side. Also visit the Museum of Trade Ceramics which is an elegant Vietnamese style wooden house built in 1858 showcasing antique ceramic artifacts. Next, see the 200-year-old Tan Ky House typifying an ancient Chinese merchant residence and the Ong Temple built in 1653 by Chinese settlers to worship an ancient Chinese general whose character stands for loyalty, bravery and justice and the local market vibrant with colours and activities.
After the tour, check out from hotel and transfer to Danang airport and catch flight to Ho Chi Minh City (also called Saigon). 
Upon arrival, you will be welcomed by our guide and transferred to the hotel for check in.  Ho Chi Minh City, formerly named Saigon, is the largest city and economic center of Vietnam, always bustling with activities of modern life. It is where businesses converge and shoppers indulge themselves into unlimited choices. 
Overnight stay at hotel in Ho Chi Minh City.
After breakfast at hotel, travel past miles of flat rice fields, along a bustling road to My Tho City, which is part of the world's largest delta and Vietnam's rice bowl – Mekong Delta. 
On arrival in My Tho City, board a motorboat and navigate through intricate canals while observing the local daily life up close as well as the landscape of waterways and lush islands. Land on Thoi Son Island where you can listen to Southern traditional music performed by native artists. Next, you will change to a paddle boat to cruise through the narrow canals and visit households with traditional occupations of home-based coconut candy and rice-wine making.  Continue travel by motorized boat to another island to visit a bee farm and taste tea with fresh honey from the beehives and enjoy fresh fruits. 
On the return to My Tho, stop to visit the Vinh Trang Pagoda, a prominent local Buddhist structure built in 1850 with a unique architectural mixture of Vietnamese, Roman, Chinese, and Cambodian styles characterized by a highly ornate façade.  At the end of the tour, you will find the way back to Ho Chi Minh. 
Overnight stay at Ho Chi Minh City.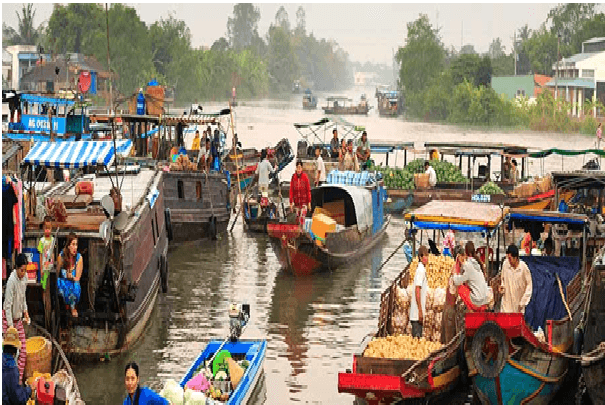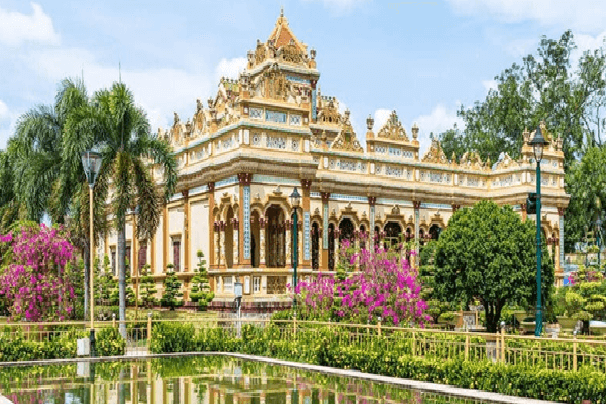 After breakfast at the hotel, proceed for a half-day sightseeing tour of Ho Chi Minh City 
We shall visit the Saigon Notre-Dame Basilica, a neo-Roman cathedral built by the colonial French with materials entirely imported from Marseilles. We shall also visit the Saigon Central Post Office, which was designed and constructed in the early 20th Centuryby the famous French architect Gustave Eiffel. Move on to Cho Lon or the city's China Town where you will visit the Jade Emperor Temple (Phuoc Hai), a rare Taoist structure in Vietnam built in 1909 in dedication to the Lord of Heaven. It is filled with smoky incense and fantastic carved figurines and still buzzing with worshipers, many lounging in the front gardens. Lastly, visit the War Remnants Museum which features a comprehensive collection of the machinery, weapons, photos, and documentation of the Vietnam War with both the French and Americans.
After the tour, check-out from the hotel and transfer to the airport to catch a flight to Siem Reap. Upon arrival, check-in at the hotel there
After breakfast at the hotel, we shall proceed for temple tour of Angkor Thom and Angkor Wat.
We shall begin the tour with a visit  to Angkor Thom South Gate. Visit the Bayon Temple, which was built around 1190 AD, made to represent the intersection of heaven and earth. Also pass by the Terrace of Elephant, which was used for the public ceremonies and served as the stage for the king's grand audience hall, the Terrace of leper king (one of Angkor's mysteries), and the ancient Royal Palace Phimeanakas.
Finally, visit the world heritage site, Angkor Wat which is one of the most important archaeological site in South-east Asia which was built by the great Khmer King Soriyavaraman II in the early on 12th century dedicated to Vishnu God Hindu religion.
Overnight stay at Siem Reap.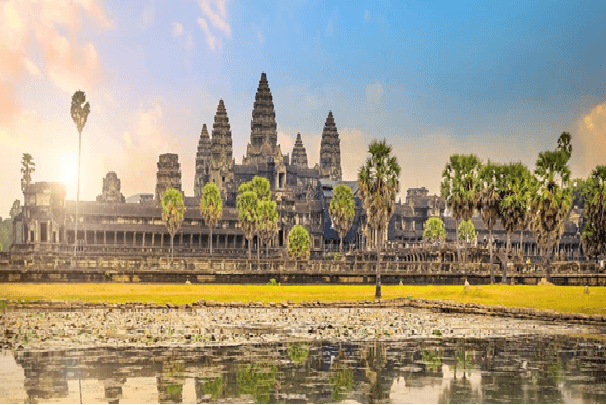 After breakfast,  proceed for a sightseeing tour of the floating village of Chong Khneas, located 10 kilometers south of Siem Reap. 
During the tour, we will take a traditional wooden boat for a ride on the Tonle Sap Lake, the "Great Lake" of Cambodia, one of the largest in Asia and flows into Tonle Sap River, joining the Mekong in Phnom Penh. During your boat ride through Chong Khneas, you will see ordinary Cambodians going about their daily life in the floating village. Your boat will briefly enter the edge of the Great Lake before docking with the Tara – the biggest boat on the Tonle Sap Lake. We will see a fishermen's "floating village" with floating schools, floating police station, etc. It is same as a big village floating on the lake, and the "village" move from place to place following water levels and current. 
Afterward the tour, check out from the hotel and transfer to hotel to catch your flight back to India.
Arrive home with pleasant memories of your Vietnam and Cambodia tour organized by State Express Global Voyages, which we are sure you will treasure for a lifetime.