Our recent Vietnam tour was an extraordinary adventure through the captivating landscapes of Vietnam, a symphony of awe-inspiring destinations, cultural immersion, and luxurious accommodations that left our clients spellbound. Join us as we delve into the remarkable highlights of this enthralling journey that promises to ignite your wanderlust and leave you yearning for more. So, let's take a glimpse into the exciting itinerary that left travellers captivated and longing for more
Day 1
Upon landing at Noi Bai International Airport, our travel group embarked on an exciting adventure that awaited them. Our dedicated team ensured that even senior citizens in the group were assisted during this stage. After transfer to the hotel in Hanoi, our team ensured a seamless check-in process. The rooms were well-prepared, offering a comfortable space to freshen up after the long flight and we had breakfast.
Embarking on a Mesmerizing Cruise
Escorted by our knowledgeable guide and driver, the group proceeded to Tuan Chau Harbor via a new highway. Though the drive itself was not particularly scenic, it provided a glimpse of the city's outskirts and the lush green farms.
At noon, the welcoming crew of the Mon Cheri Cruise greeted us and assisted with luggage, ensuring a hassle-free transition to our luxurious vessel. A special lunch with fresh delicacies and delectable appetisers awaited us onboard. Indulging in the luxurious ambiance, our taste buds were tantalised, and our senses embraced the beauty of Lan Ha Bay.
Exploring the Wonders of Lan Ha Bay
During the cruise, our guests had the opportunity to explore the Dark and Bright cave, renowned for its pristine natural beauty and poetic seascape. Photographers captured the romantic essence of the local sights, while adventurous souls indulged in bamboo boat rides and enjoy the sky above Lan Ha Bay. For those seeking relaxation, the emerald green waters beckoned, offering exhilarating swimming activities or the option to enjoy the mini pool with a jacuzzi on board the Mon Chéri Cruise.
As the day progressed, our guests had ample time to freshen up in their rooms before the cruise continued its journey. The return to Mon Chéri Cruises presented the perfect opportunity for photography enthusiasts to capture the stunning sunset at Lan Ha Bay. The evening unfolded with a cooking demonstration, accompanied by a delightful "happy hour" promotion, allowing our guests to savour their favourite drinks at a discounted rate.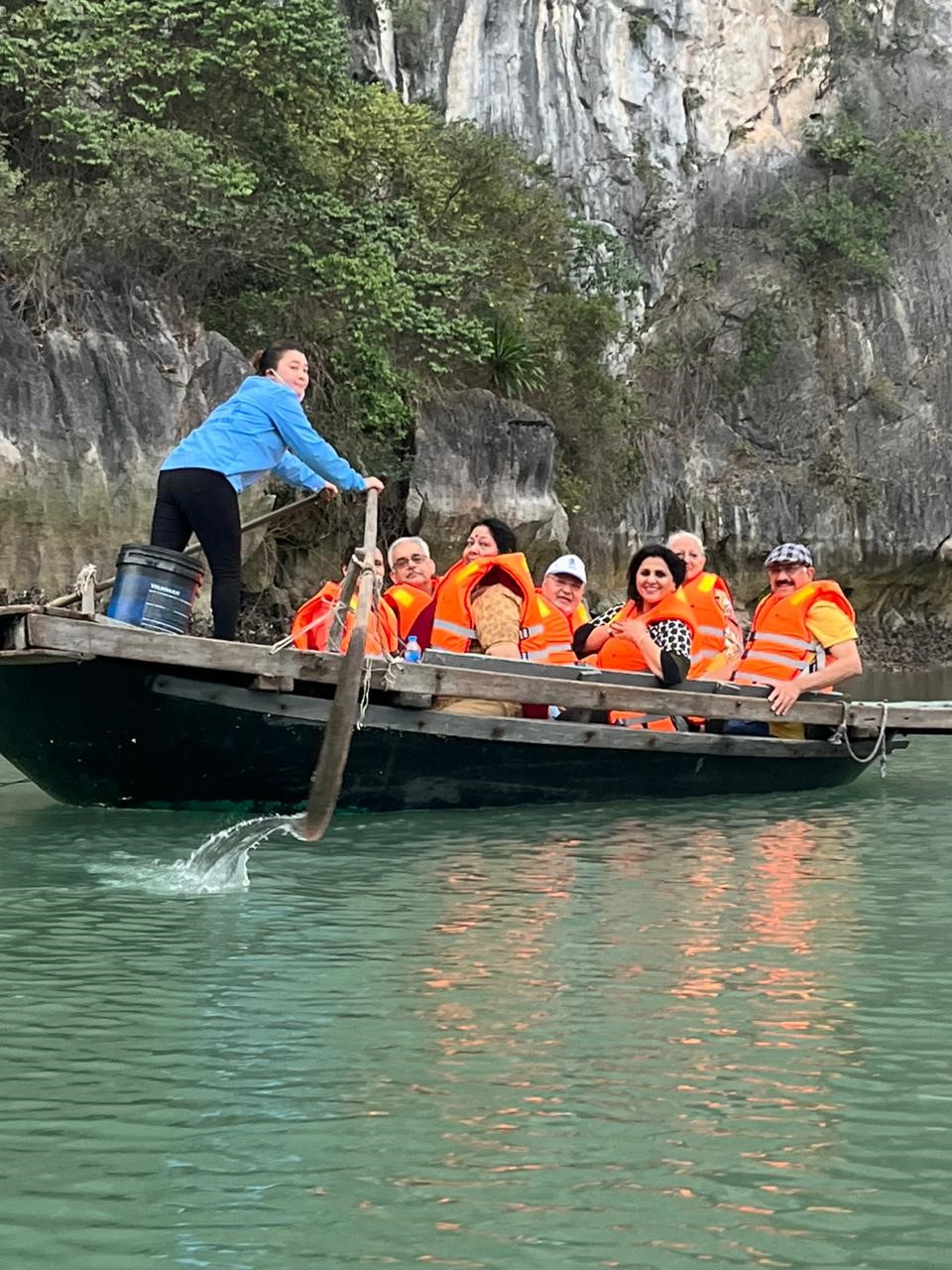 Day 2
Every morning, the tour participants were treated to a sumptuous breakfast at their hotel. With a variety of options to choose from, everyone found something to satisfy their taste buds and fuel themselves for the exciting adventures that awaited.
Exploring Cat Ba World Biosphere
We started our day with a rejuvenating Tai-chi class on the deck, setting the tone for an energising day ahead. We boarded a transfer boat, which took us to Trung Trang, an awe-inspiring limestone cave known for its magnificent stalactites. Later, as we bid farewell to Cat Ba Island, we checked out of our rooms and enjoyed a delicious lunch at the restaurant. A private bus awaited us, ready to transport us back to Hanoi. Along the way, we made a fascinating stop at a pearl factory. Witnessing the process firsthand, we marvelled at the creation of these beautiful gems, though some found it a little gruesome. The factory store offered a wide range of pearl jewellery, catering to every budget. We also had a refreshing midway stop where clean restrooms and local food options were available. Our packed lunches allowed us to save time, ensuring we arrived in the city promptly.
Immersing in Hanoi's Cultural Treasures
Upon reaching Hanoi, we checked into our hotel, allowing for a quick freshen-up before beginning our exploration of this captivating city. Our first stop was the Temple of Literature. Its serene gardens and intricate architecture provided the perfect backdrop for memorable photos. We caught a glimpse of the Ho Chi Minh Complex, an essential part of Vietnam's history, showcasing the life of the nation's founder.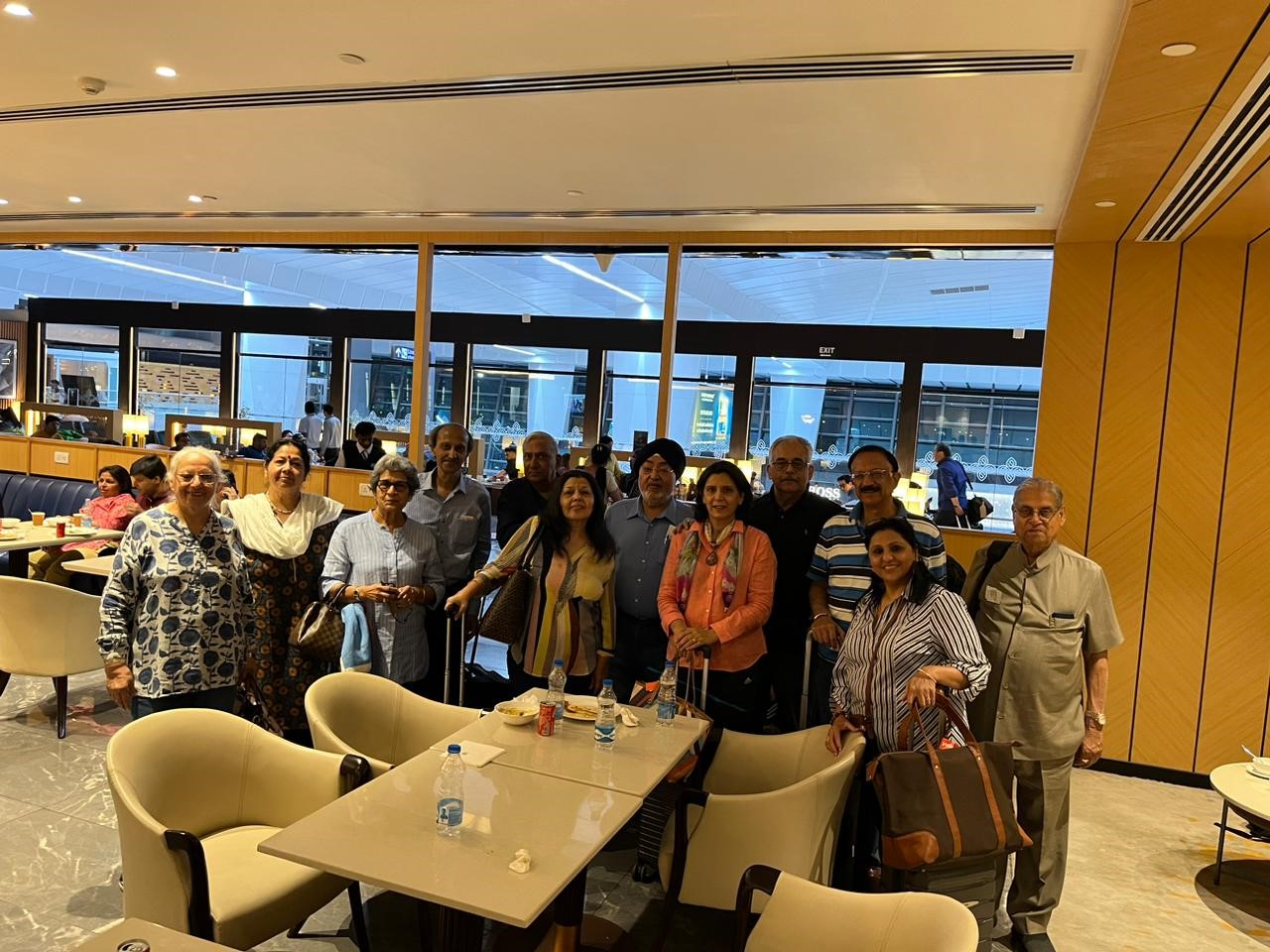 We continued our journey to Hoan Kiem Lake, where the iconic Ngoc Son Temple sits on a picturesque islet. While the shopping enthusiasts among us were eager to explore the surrounding area, our guide prioritised the group's interests. We proceeded to the bustling Old Quarter, a labyrinth of 36 ancient streets, where we had an hour to soak up the vibrant atmosphere and get a taste of the local market scene. Our day in Hanoi concluded when we made a stop at the vibrant Weekend Night Market, a shopper's paradise offering an array of bargains, quirky items, and bustling street stalls. Some members of the group headed back to the hotel, while others eagerly dove into the lively market ambiance.
Day 3
After a hearty breakfast at the hotel, our guests were accompanied by our knowledgeable guide and driver to the airport for their flight to Da Nang.
Experience the beauty of Da Nang
Upon arrival, our local guide and driver warmly welcomed the group and whisked them away to Madame Lan restaurant for a delectable lunch. The restaurant, with its picturesque setting, served a wide variety of local delicacies. Our guide assisted in communicating with the waitstaff, ensuring a seamless dining experience. Some guests even sought the guide's help to understand the proper way to enjoy the local cuisine.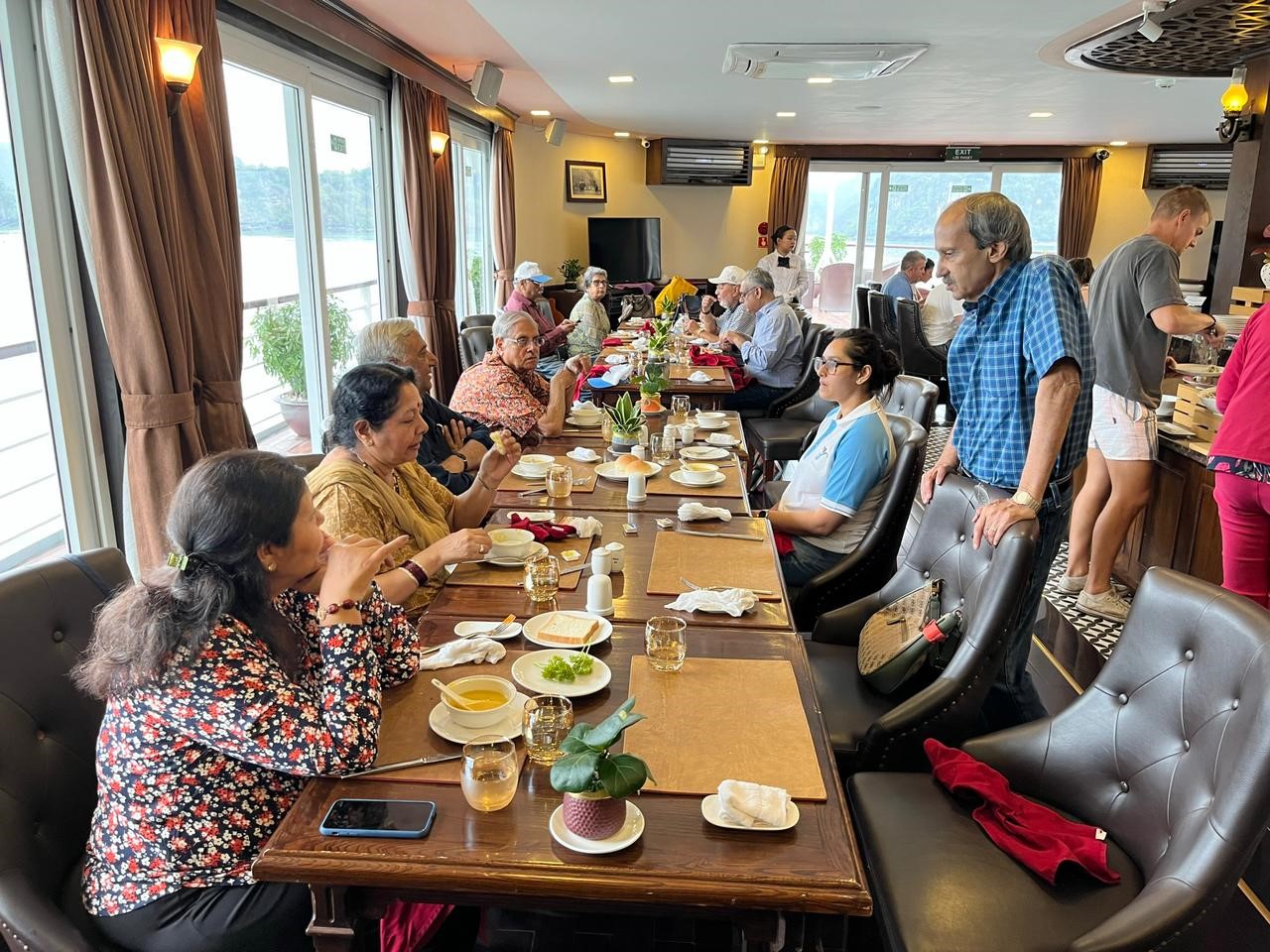 Exploring Hoi An's Enchanting Town
Once everyone had checked into their hotels, we embarked on a 1.5-hour journey to Hoi An. The scenic ride showcased the beachfront properties of luxurious resorts, building anticipation for what lay ahead. Our clients expressed a desire to shop for silk and leather, and our guide took them to a silk emporium. The afternoon proved to be the perfect time to wander through this delightful town, adorned with famous Japanese Covered Bridges, the Pottery Museum, the Tan Ky House with a history spanning 200 years, the Chua Ong Pagoda, and a vibrant market. Our walking tour meandered along narrow streets, revealing low tiled houses and assembly halls that narrated the town's multicultural past. The rest of the day was at leisure, allowing our clients to indulge in a shopping spree in Hoi An, known as a paradise for silk, fashionable clothing, and accessories.
As the sun set, we gathered at Papa Kitchen Indian Restaurant in Hoi An for a scrumptious dinner.
Day 4
The day began with breakfast at our hotel, followed by an exciting journey to Ba Na Hills, located just 25 kilometers away from the centre of Da Nang.
Golden Bridge and Enthralling Activities
The journey to Ba Na Hills base station took approximately 1.5 hours, during which our guide collected the tickets for our clients. The cable car rides were incredibly frequent, ensuring minimal waiting time for our clients. At the first stop, our clients were greeted by the iconic Golden Bridge, although it was quite crowded, the sight was nothing short of spectacular. The golden walkway appeared to be suspended by two colossal hands, providing our guests with majestic views of the surrounding countryside. They also had the opportunity to explore the Pagoda and wander through a delightful maze. With approximately 2 hours to spare, our clients found it sufficient to immerse themselves in the various attractions.
Moving on to the next stop, our clients enjoyed a sumptuous buffet lunch at a vast restaurant that catered to both vegetarian and non-vegetarian preferences, including a selection of Indian dishes. Street performers captivated the audience with their flamenco show and other captivating acts. Although the rollercoaster had a long line, fast passes were available for purchase to bypass the queues. Unfortunately, by the time we arrived, the fast passes for that hour had been sold out. Ba Na Hills is truly a paradise for families with young children, offering endless entertainment options.
Exploring Fantasy Park and the Majestic Golden Bridge
Following the delightful lunch, our clients were granted free access to Fantasy Park, Vietnam's third-largest indoor games zone. Here, they indulged in a series of intriguing games, including 4-5D films, skiver, The Death Race, and the captivating dinosaur park. The park provided an excellent opportunity for our clients to unwind, embrace their inner child, and create cherished memories.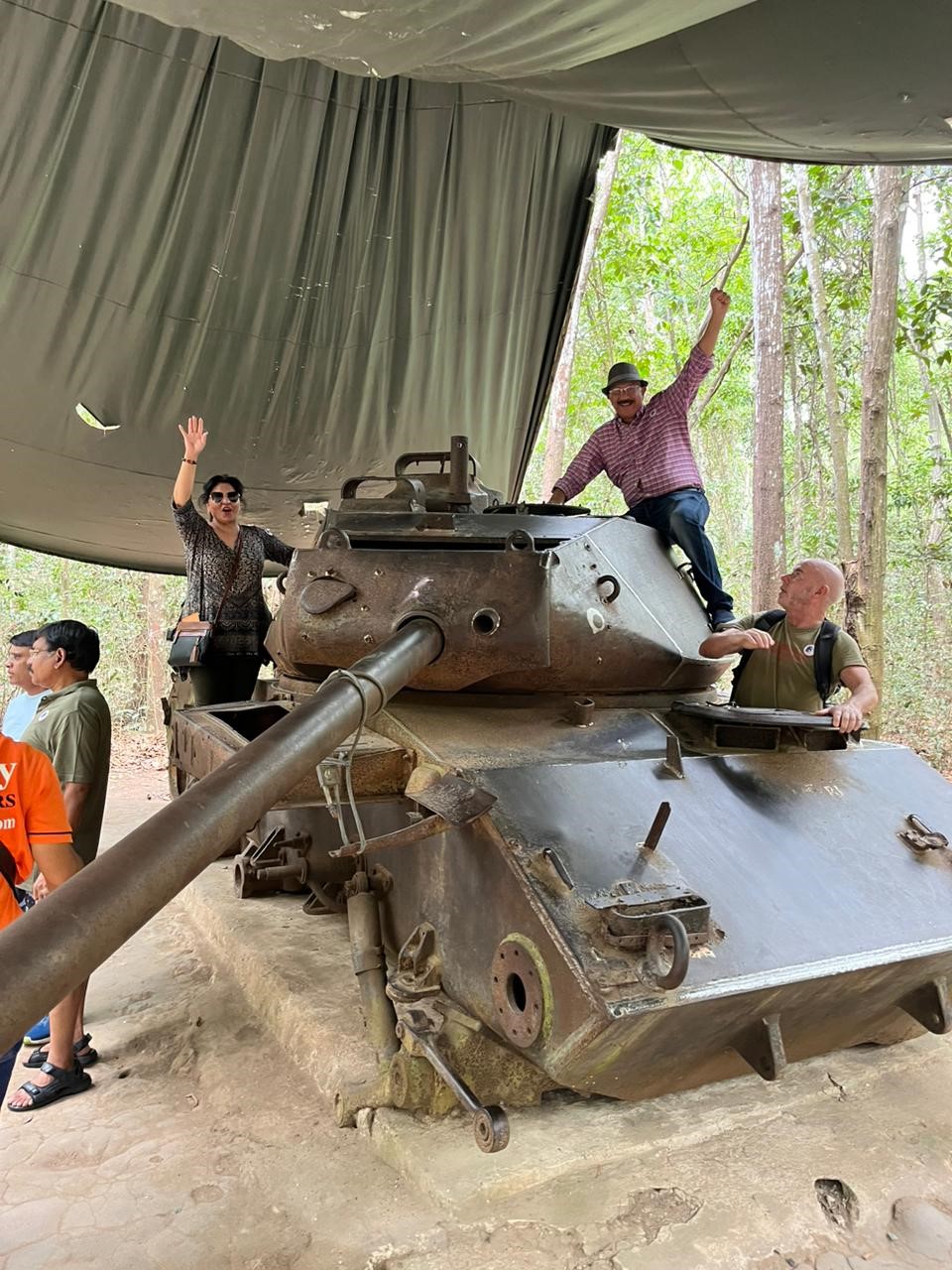 Day 5
The day began by having breakfast as everyone got Fuelled up for the adventures that lie ahead. After breakfast, the morning was free for leisure. Many relax on the pristine sandy beaches, bask in the warm sun, or take a refreshing dip in the crystal-clear waters of the swimming pool. Some Immersed themselves in the tranquil beauty of the surroundings. As the morning unfolded, the travellers experienced a smooth and hassle-free check-out
En Route to Ho Chi Minh City
At 11:00, our group checked out with an Indian packed lunch in hand – a delectable selection of veg burgers, beef burgers, and spring rolls awaited, accompanied by refreshing packaged juice. Our knowledgeable guide and skilled driver accompanied them to the airport for their flight to Ho Chi Minh City.
Due to some unforeseen circumstances, our flight was delayed by four hours. Although this setback could have been disheartening, SEGV came to the rescue! We provided our travellers with 100k coupons, allowing them to make the most of their time at the airport.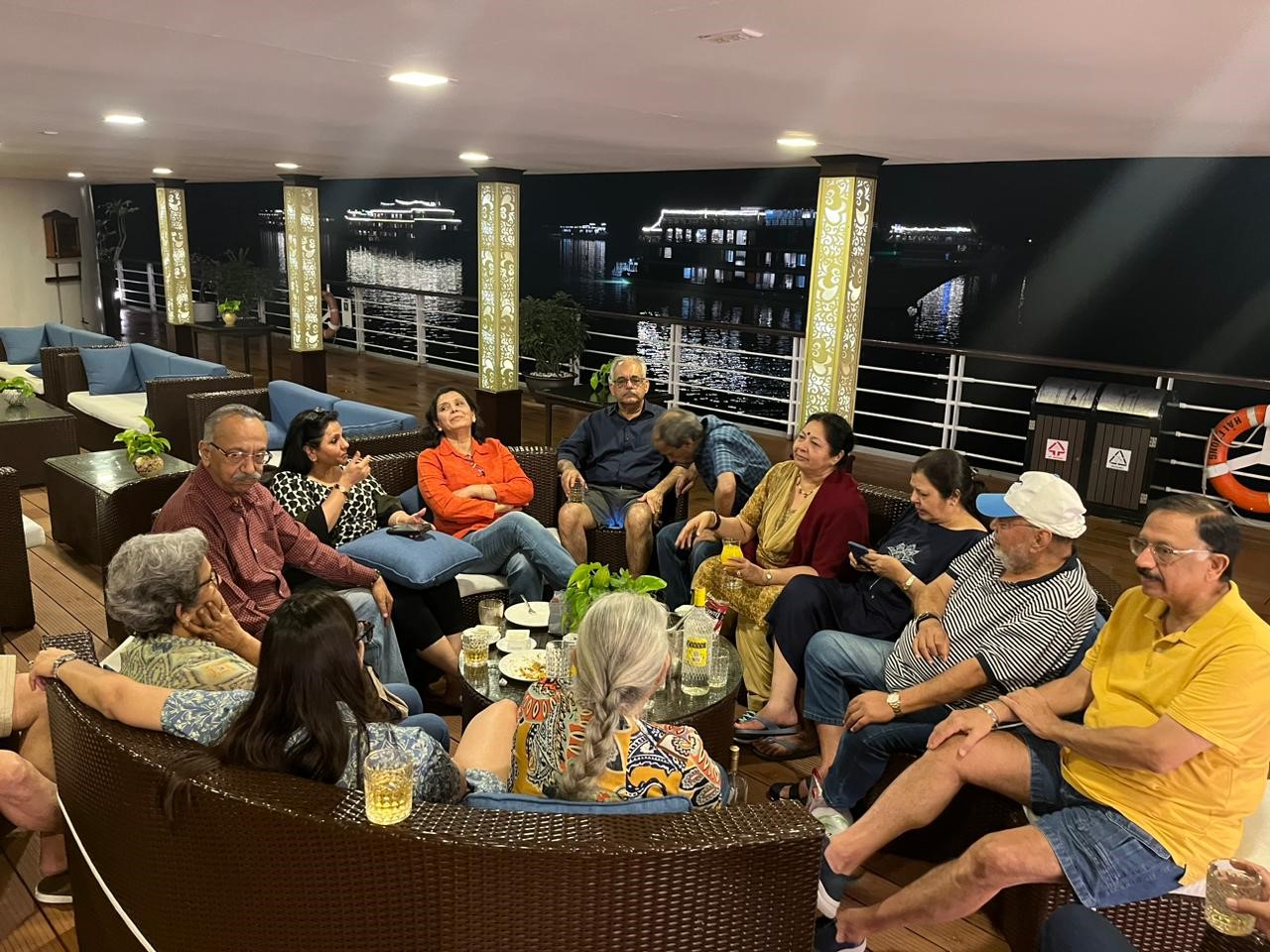 Arrival in Ho Chi Minh City
Finally, our group landed at Tan Son Nhat Airport in Ho Chi Minh City. Our friendly guide and driver were there to welcome them and ensure a seamless transfer to the hotel for check-in. Since the group arrived late, most of the local markets had closed for the day. However, our team was quick to find a solution, directing our guests to a nearby Indian restaurant and an Italian eatery. After a day filled with travel and exploration, our guests enjoyed a leisurely evening in Ho Chi Minh City. With no set itinerary for the night, they were free to explore the city at their own pace, immerse themselves in its vibrant atmosphere, or simply unwind and rest in the comfort of their hotel.
Day 6
The tour participants were treated to a sumptuous breakfast at their hotel.
Exploring the Legendary Cu Chi Tunnels
A two-hour drive from the hotel led us to the renowned Cu Chi Tunnels, an iconic symbol of Vietnam's rich history. Upon arrival, our knowledgeable guide secured tickets for our group, ensuring a smooth entrance to this historical site. As we ventured into the tunnels, our guide provided captivating narratives about the war and the tunnels themselves, leaving us truly fascinated. The highlight of the visit was the shooting range, where we had the opportunity to experience the adrenaline rush of firing AK47s and machine guns. Weather permitting, this unique experience added an exciting dimension to our journey.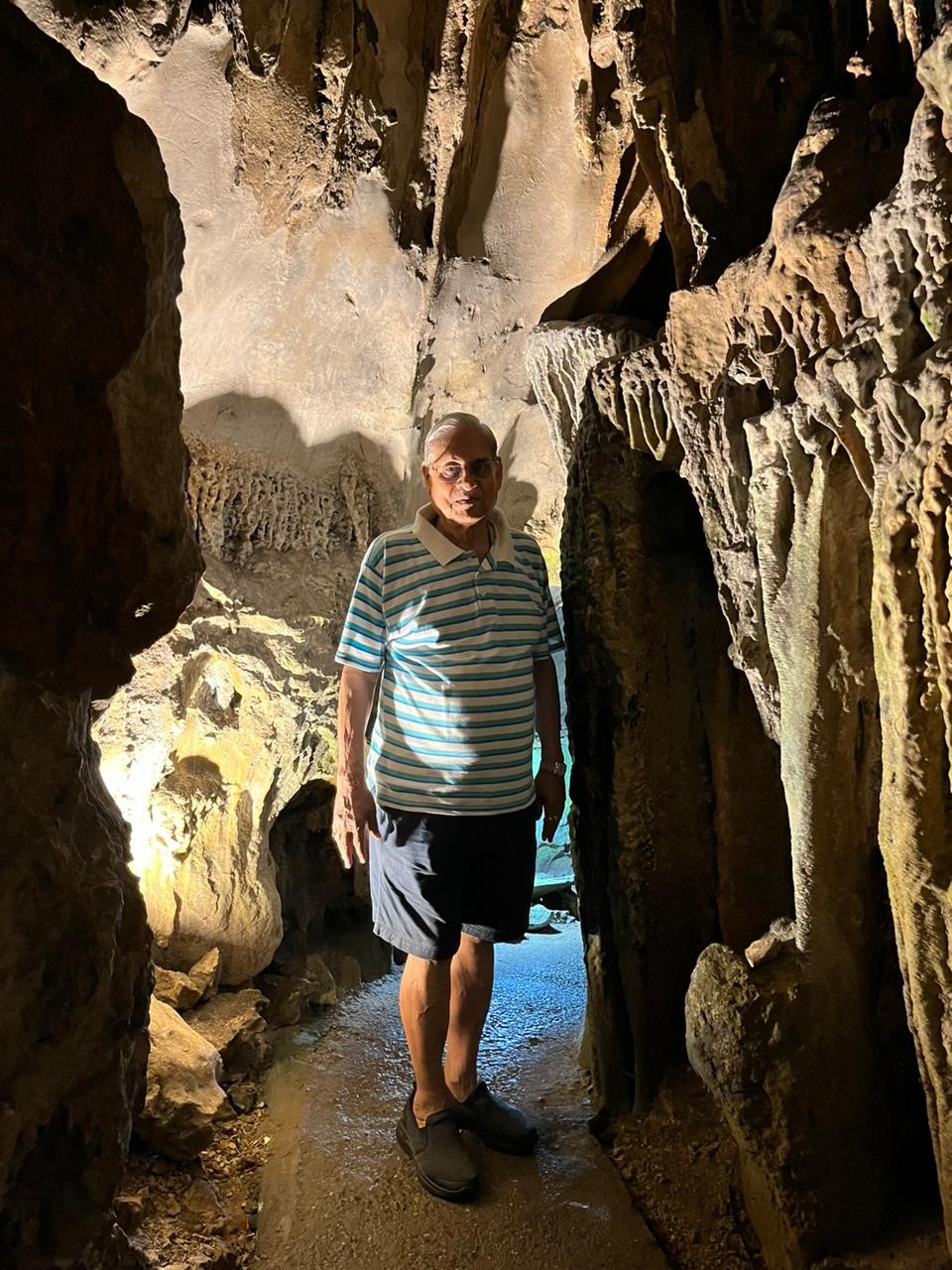 We marvelled at the complexity of the tunnels, which housed meeting rooms, kitchens, clinics, schools, depots, trenches, and emergency exits—an impressive testament to guerrilla warfare.
Immersing in Saigon's Cultural Treasures
Returning to Ho Chi Minh City, we indulged in a delectable lunch at the Tandoor Indian restaurant. Although the taste was satisfactory, the ambiance was exceptional, creating a delightful dining experience for our group. In the afternoon, we embarked on a tour to witness Saigon's cultural gems. Our first stop was the Saigon Notre-Dame Basilica, currently undergoing renovations until 2022. This neo-Roman cathedral, constructed with imported materials from Marseilles, is a stunning architectural marvel.
Adjacent to the basilica, we explored the Saigon Central Post Office, a masterpiece designed by the renowned French architect Gustave Eiffel. This captivating museum housed a vast collection of exhibits, including weaponry, photographs, and documentation from Vietnam's wars with the French and Americans. Later, While some members of our group chose to explore Saigon's bustling Ben Thanh Market, others continued their city tour. Concluding our shopping adventures, we made our way to Saigon Central, one of the city's largest shopping malls, where we found a myriad of retail options to satisfy our desires.
Day 7
The tour participants were treated to a sumptuous breakfast at their hotel.
Exploring the Mekong Delta: A Window into the Vibrant Local Life
The first stop was the Mekong Delta, known as the world's largest delta and Vietnam's largest rice bowl. All the travellers were transported to My Tho City, where they boarded motorboats to navigate through intricate canals, immersing themselves in the local daily life and stunning waterways.
A Captivating Blend of Traditions and Nature
Upon landing on Thoi Son Island, the guests were serenaded by soulful Southern traditional music performed by talented native artists. The journey continued to another island, where they had the opportunity to visit a bee farm, savour tea with fresh honey from the beehives, and indulge in a delightful assortment of fresh fruits.
Interacting with Local Residents and Unveiling the River Life
One of the most cherished aspects of the trip was the chance to engage with local residents and gain insights into their vibrant river life. The Mekong Delta's economy, primarily based on tourism, mangoes, bananas, and citrus fruit, became evident as our guests interacted with the friendly locals and learned about their daily activities. Later, to rejuvenate the weary explorers, a scrumptious lunch awaited our guests at the delightful Diem Phuong restaurant. Here, they savoured the authentic flavours of Vietnamese cuisine, tantalising their taste buds with a range of local delicacies.
Discovering Bamboo Craftsmanship and Vinh Trang Pagoda
As the journey continued, a visit to a bamboo factory added an intriguing twist. While watching the demonstration was optional, the guests unanimously decided to stop and were captivated by the 15-minute showcase. The vast array of bamboo products tempted everyone, resulting in an extended visit to the shop.
Later, a transfer boat carried our guests to Vinh Trang Pagoda, a prominent local Buddhist structure known for its unique architectural blend of Vietnamese, Roman, Chinese, and Cambodian styles. Our guests marvelled at the monumental statues of sleeping, standing, and laughing Buddha, capturing beautiful moments through their cameras.
After an eventful day of exploration, our guests returned to their hotel for some well-deserved relaxation. We had a gala dinner with drinks and delicious Italian food where we discussed the amazing trip and everyone recounted their favourite experience, before we flew back to Delhi.
Day 8
The final day of this memorable tour started with a hearty breakfast. As our clients bid farewell to Vietnam, they had the opportunity to explore the diverse shopping options available at Ho Chi Minh City.
Seamless Travel Arrangements for Unparalleled Convenience
At SEGV, we understand the importance of smooth and hassle-free travel arrangements. On the final day of our Vietnam tour, we ensured that our clients had ample time to relax and enjoy the vibrant city of Ho Chi Minh. After checking out from the hotel at 12:00, luggage storage facilities were provided, enabling our guests to explore the city or indulge in some well-deserved shopping. With an array of stores and boutiques, travellers were delighted to discover unique souvenirs and treasures to commemorate their journey.
For departure flights later in the day, our dedicated guides and drivers accompanied the clients back to the airport at 16:00, ensuring a seamless transition and stress-free journey home.
Concluding Remarks
We at SEGV invite you to join us on our next remarkable Vietnam Group Tour 2023, where you can get a chance to immerse yourself in captivating cultural experiences, savour delectable cuisine, and create cherished memories. With our meticulous attention to detail and commitment to customer satisfaction, we ensure that every moment of your journey is truly unforgettable. Book your Vietnam Group Tour with State Express Global Voyages today and embark on a journey that will captivate your senses, ignite your curiosity, and create cherished memories that will last a lifetime!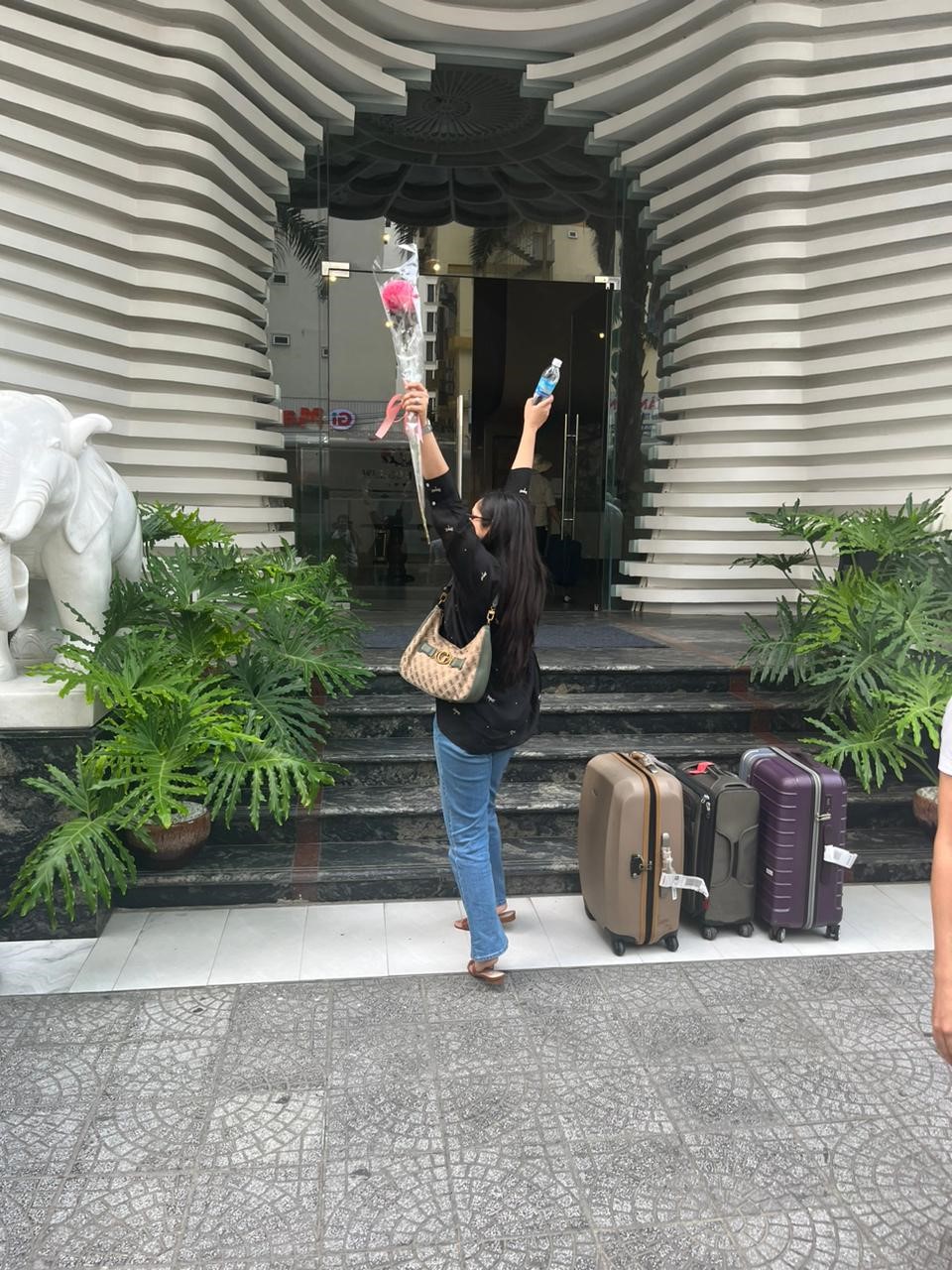 State Express Global Voyages (SEGV), a leading travel company dedicated to creating unforgettable experiences